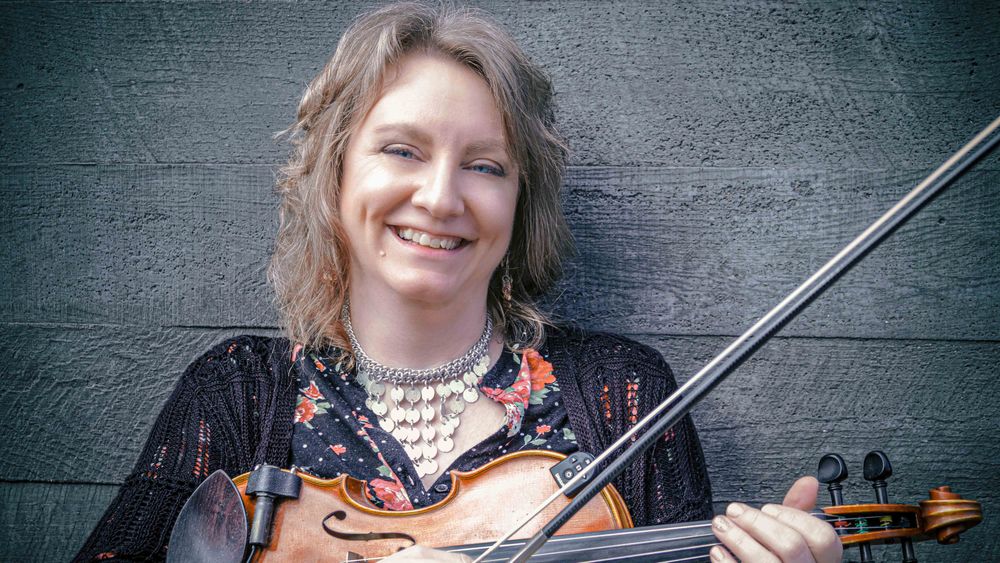 Merna Lewis
A journey through music...
"I began playing the fiddle at the age of 7, only finally after mom and dad would allow me to start taking lessons.  I can remember from a very early age wanting Aunt Bettie to let me play her fiddle.  I come from a long heritage of musicians, notably violinists and fiddle players.  My late Aunt Bettie Freel, well-known musician and music teacher in the San Luis Valley; and deceased Grandmother Virginia Marie Bond Riggenbach, violin virtuoso, The Juilliard School of Music graduate and teacher of violins at the Brearley School for Girls in New York City, and founder of Riggenbach School of Music in Alamosa, CO.  Before Grandma Rie', my great-grandma Merna played piano and one of my great-grandfather's played fiddle. I almost feel a high responsibility to keep the music going!  
"In doing so, I have played professionally from the age of 14, just learning the processes of band jobs as well as competing in fiddle contests.  However, when my Aunt Bettie passed away from breast cancer, she was playing part time with weekend bands in the area, as well as teaching 40+ students on a weekly basis.  I stepped into her shoes doing both while still keeping up my grades in school and traveling 3 days a week over 2 hours to play in a very popular regional band until I graduated from high school.  I knew from a very early age what my dream career was going to be, and I have been in pursuit since!"

A Colorado native with a rich musical heritage, unprecedented passion, and dedication, Merna Lewis is a force behind the fiddle. Every melody born from years of trial by fire, education, and persistence. You don't just listen to Merna play the fiddle; you FEEL her play the fiddle. Pieces of the Colorado mountain tops, the Texas plains, and the Nashville honky tonks are evident with every performance.

Merna earned her Associate of Applied Arts Degree in Commercial Music from South Plains College, Levelland, TX in 2002. She moved to Nashville in 2003 and immediately ranked as one of the first call fiddle players for the lower Broadway Honky-tonks, which led to touring opportunities with Trent Willmon and Tanya Tucker and many regional artists, and as well as studio recording sessions. You can hear Merna playing on many independent artist CDs and EPs. When she's not in the studio or on tour, you might still catch her playing in the Nashville honky-tonk bars.